Motorhome Hire - A Review of the Swift edge 494
The Swift Edge 494.  A fantastic, spacious motorhome with a comfortable fixed rear bed at the rear and an over cab double bed.
We personally find that this motorhome really suits both younger families and anyone who just likes to not climb a bed but have the option for guests or storage on the over cab bed.
Swift build this motorhome on the Fiat Ducato base which is available in Manual or Automatic.  Here at Luna Motorhome Hire our vehicle is Manual.
The exterior design with the black is really quite nice and doesn't make you look like a beacon of light.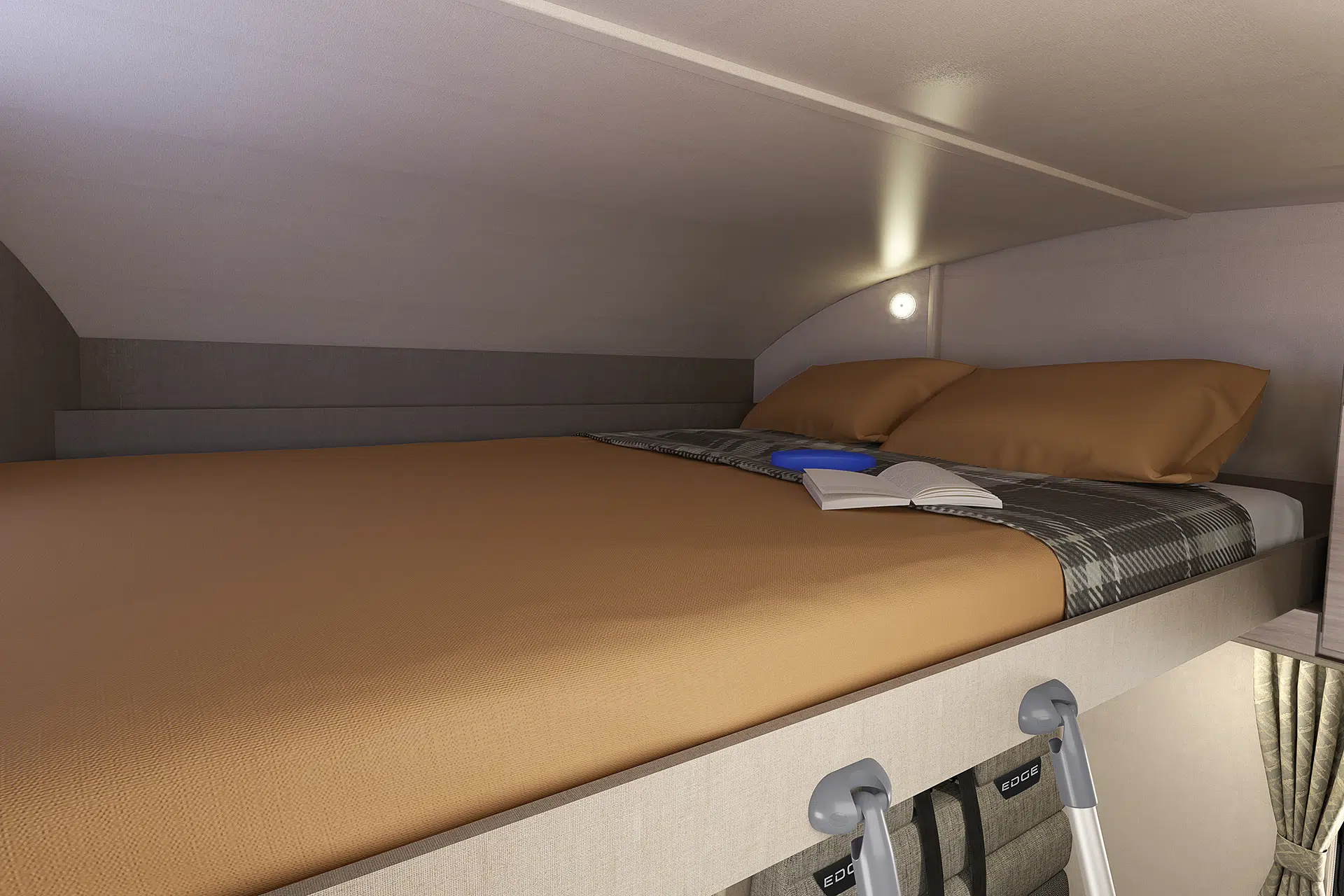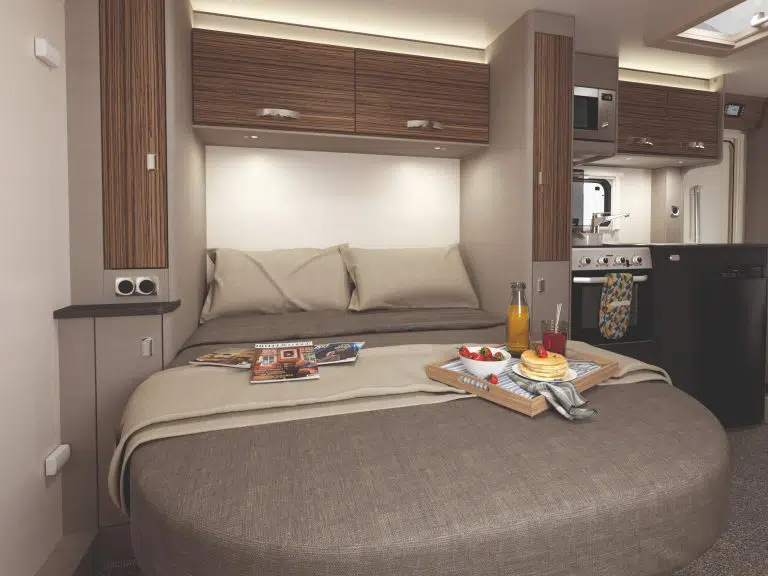 The Beds.  The rear double bed is awfully comfortable.  It faces to the side which is interesting as most rear fixed beds tend to face forwards into the vehicle.
The positive to this are that when you wake up in the morning you are able to look out the window and look at the amazing view (if you've found one)
Kitchen. The kitchen boasts a 3 burner hob with an oven and grill.  The great thing about this Swift motorhome is that it also comes with a microwave.  This does only work when hooked up to electric.  You have an under counter fridge with small freezer compartment and a sink.
The washroom. A very nice washroom indeed.  What we like about this washroom is that it seems really well fitted out and gives you enough room to move around in there if you were looking to take a shower.  The tap turns into a shower.
Seating. The forward lounge offers up enough space for up to 6 people to sit comfortably when the vehicle is parked up.  The front seats swivel around to face the interior of the motorhome which can be quite comfortable if you lean back and stick your feet up on the other seats…. (just keep your socks on)  A table offers enough space to eat your breakfast on.
Storage. The interior storage is ample for 4 people to holiday comfortably.  There is some storage above and around the bed, a bit of cupboard space over the lounge and a wardrobe.  The garage area is minimal but you are able to store some levelling blocks in there and a few fold away chairs.  The rear bed so raise at the bottom to allow access to some more (small) storage and the boiler.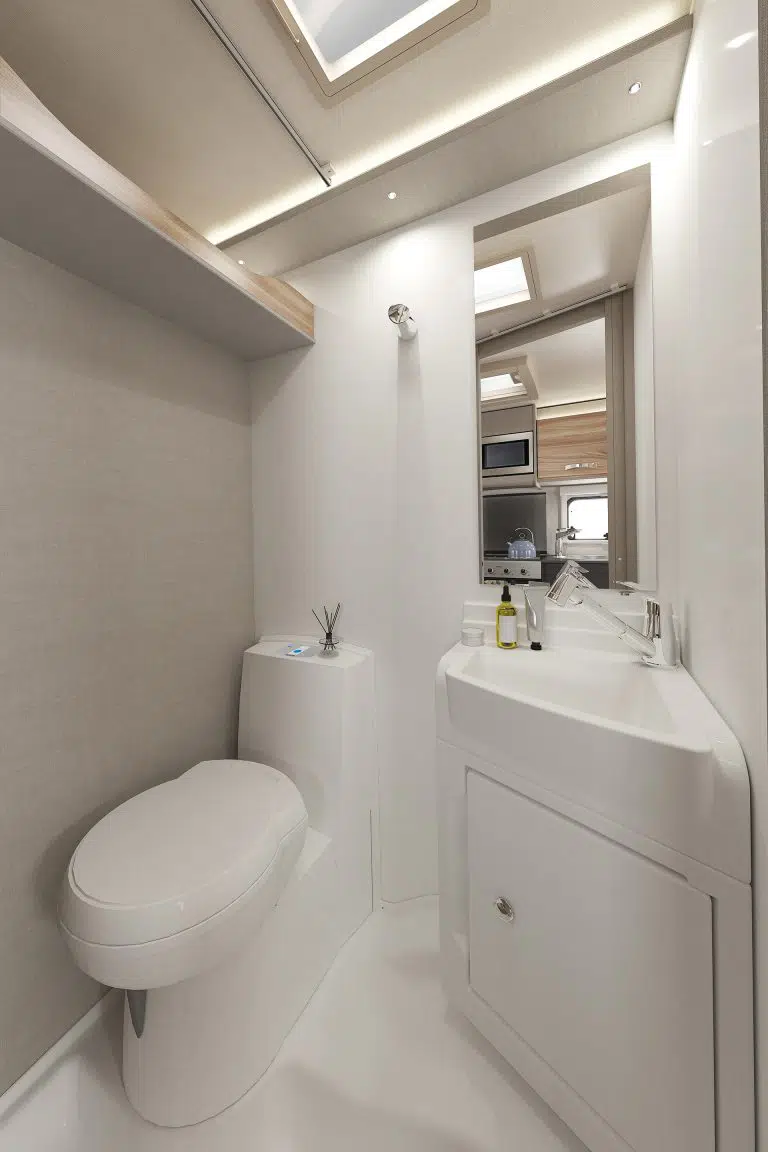 This motorhome is perfect for 4. The floor space available is great and we don't feel like you would be pushing past each other to get to the other end of the motorhome.  The kitchen is a really great feature of the motorhome and the fixed rear bed is just brilliant.  Both beds are really nice and comfy and interior design is simple yet attractive.
A great motorhome to hire or buy. 
If you are looking to hire one, why not check out our prices over on our booking page.  
If you are looking to buy one of these great vehicles, we recommend Alan Kerr Ltd who are based down in Paignton.