6 Berth Luxury Motorhome Hire - Auto-Trail Frontier Scout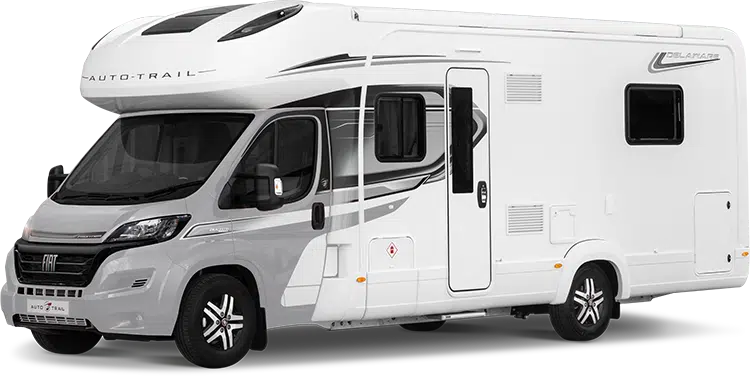 Here we have the ultimate in luxury being afforded to the motorhome hire industry.  If you want the best of the best with everything included, then here we are.  This motorhome is finished with the finest in soft furnishings.
*** NOTE *** You will require C1 on your driving license to drive this motorhome.
*** NOTE *** No pets are allowed in this motorhome
The Auto-Trail Scout has some of the finest in luxury on board.  To the front of the motorhome we have a fantastic, confortable cockpit for the driver and their travelling partner.  Just behind, we have a 4 person dinette which converts into a small double bed for the smaller ones in your party.  
Above the cab, you will find a very spacious double bed with a sky light for some natural light.
As we head through this luxury motorhome, you will find the kitchen with hob, oven, grill and sink opposite the dinette with the spacious fridge freezer just on the other side of the habitation door.  A small hideaway for your freestanding rear table is also close by.
Head to wards the back and we have a very spacious rear lounge completed with luxury furnishings.
A fabulous toilet and shower are on board this motorhome with heating and hot water.  
Being part of our luxury range, when you book, you will find everything included in this motorhome.  Bedding, Towels, , Wifi, TV, Gas, Outside table and chairs, toilet chemicals and levelling blocks.
 Try before you buy.  Why not try out this motorhome before you buy it.  As an approved Autotrail hire partner, we believe its always best to get a feel of any vehicle before you buy one.  If you wish to see a full breakdown of this vehicle with a full dealer list if you are looking to buy, check out our friends at Auto-Trail for more information.
More info about your Motorhome
Berth (Sleeps) – 6

Double beds x3

Bunk beds N/A

Shower & toilet

Hot & cold running water

On-board heating system 

Fridge/Freezer

Oven and Grill

Hob 

Window blinds and flyscreens 

External profile – High line – Fiat Ducato 6 speed Manual gearbox.

3.2 Metres High, 2.35 Metres Wide, 8.07 Metres Long

Adblue required – Yes

Cab stereo system

Airbags Dual Front airbags

ABS

Electric windows (cab only)

Central locking (cab only)

Habitation battery 

RHD

Certified seats 6

Cab seats swivel – Yes

240v plug sockets x2 (only able to use when hooked up to electric)

USB points x2